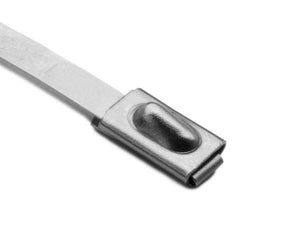 SS Cable Tie, 7.9", 202lb, SS316
(HT 111-93089)
Product Description
Used in the solar industry and other applications, HellermannTyton's stainless steel ties are designed with a ball bearing locking mechanism to assure high tensile strength and easy insertion when securing hoses, cables, pipes, and more. Stainless steel ties can be used in virtually any indoor, outdoor, or underground application. Grade 316 material is highly resistant to corrosion and widely used in marine environments where chemicals, salts, acids, and temperature extremes may affect the bundling application. MBT stainless steel ties in 316 stainless steel material are also available with a polyester protective coating. This coating creates a barrier and protectant from chemical reactions of dissimilar metals.
Spec: Stainless Solar Tie, 7.9" Long, 202lb Tensile Strength, SS316, Metal, 100/pkg
Size: 7.9" Tie
HellermannTyton Part No. 111-93089
Type: MBT8S
Material: SS316
Global Part Name: MBT8S-SS316-ML
Flammability Rating: Non-Burning
Minimum Order Quantity(MOQ): 100
Uses: Used in the solar industry and other applications to hold wires, signs, etc...
Features:
16 grade stainless steel offers excellent resistance to salt spray, corrosion, weather and chemical resistance
Self locking, ball bearing mechanism assures high tensile strength and easy insertion
Fully enclosed head does not allow dirt or grit to interfere with locking mechanism
High tensile strength for dependability and safety on heavy duty applications
Warranty Information
HellermannTyton products are simply the best products for solar use. They are warranted to be free from defects in material and workmanship. Their website has more information.
---
We Also Recommend