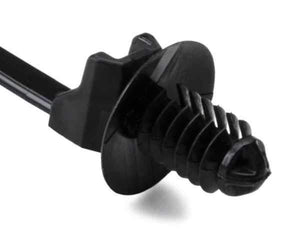 Cable Tie/ Fir Tree, 6.5", 50lb
(HT 157-00107)
Product Description
Used in the solar industry and other applications, One-piece mounting ties offer a complete solution by both bundling and mounting wires, cables and tubes. The fir tree mount provides low insertion force with a high extraction force. Outside serrations on the cable tie leave a smooth interior surface that's gentler on sensitive wire insulation. The unique head design allows the cable tie to firmly hold bundles as small as .06" diameter. The disc offers added protection against debris.
Spec: Cable Tie/ Fir Tree, 6.5" Long, 50lb Tensile Strength, PA66HIRHSUV, Black, 100/pkg
Size: 6.5" Tie
HellermannTyton Part No. 157-00107
Type: T50R
Material: PA66HIRHSUV, Black
Global Part Name:
Flammability Rating: UL94 HB
Minimum Order Quantity(MOQ): 1000 
Uses: Used in the solar industry and other applications to hold wires, signs, etc...
Features:
High impact, heat and UV stabilized cable ties contain an impact modifier allowing greater flexibility and greater resistance to vibration
Inside serrations allow for strong grip on cables and wire bundles
All-in-one bundling and fastening solution reduces costs and assembly time
Disc feature provides anti-rattle protection in high-vibration applications
Warranty Information
HellermannTyton products are simply the best products for solar use. They are warranted to be free from defects in material and workmanship. Their website has more information.
---
We Also Recommend