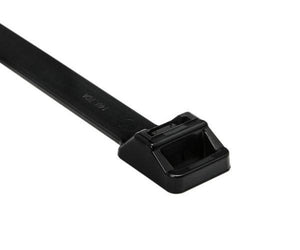 Heavy Duty Cable Tie, 22.3", 250lb
(HT 111-01196)
Product Description
Used in the solar industry and other applications, HellermannTyton offers cable ties made of UV stabilized PA66UV material. This material provides additional protection against UV radiation for long-term outdoor use and is available in various styles, tensile strengths, and bundle diameters. T-Series Cable Ties feature inside serrations to provide a positive hold on wire and cable bundles. The head design guarantees high tensile strength and a low insertion force. The bent tail design allows quick and simple installations by hand. For high-volume applications, tensioning tools are available to ensure consistent and safe installation.
Spec: Heavy Duty Cable Tie, 22.3" Long, UL Rated, 250lb Tensile Strength, PA66HIRHSUV, Black, 25/pkg
Size: 22.3" Tie
HellermannTyton Part No. 111-01196
Type: T250M
Material: PA66HIRHSUV, Black)
Global Part Name: T250M-PA66HIRHSUV-BK
Flammability Rating: UL94 HB
Minimum Order Quantity(MOQ): 25
Uses: Used in the solar industry and other applications to hold wires, signs, etc...
Features:
High impact, heat and UV stabilized cable ties contain an impact modifier allowing greater flexibility and greater resistance to vibration
Inside serrations allow for strong grip on cables and wire bundles
Head design provides high tensile strength with very low insertion force
Bent tail ensures a quick and simple installation
Warranty Information
HellermannTyton products are simply the best products for solar use. They are warranted to be free from defects in material and workmanship. Their website has more information.
---
We Also Recommend