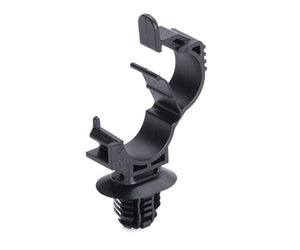 LOC Clamp Fir Tree 10-14mm Bundle
(HT 151-02218)
Product Description
HellermannTyton Solar LOC Locking Clamp provides an excellent alternative to managing wire and PV cables. The LOC with Round Fir Tree features HellermannTyton's unique retention clamp attached to a FT9x12 mm fir tree. The mount delivers a low insertion force while exhibiting high extraction resistance for a secure mounting point against a panel. 
Spec: LOC Locking Clamp, FT9x14mm Fir Tree, 10-14mm cable range, PA66HIRHSUV, 100/pkg.
Size: Fits 9x12 to 9x14mm oval holes in module frame material.
HellermannTyton Part No. 151-02218
Type: LOC1014FT9x12
Material: PA66HIRHSUV, Black
Cable Ø min: 10mm
Cable Ø max: 14mm
Flammability Rating: UL94 HB
Minimum Order Quantity(MOQ): 100
Uses: The LOC Locking Clamps are ideal for use where oval holes are available to hold multiple wires.
Features:
Releasable clamp mechanism allows for easy, one-handed maintenance without removing mount
Low-insertion, high-extraction fir tree fits 9x12 mm to 9x14 mm oval holes
Capable of holding multiple cables in clamp and additional cables via an optional cable tie, for ultimate flexibility
High impact modified, heat-resistant, UV stabilized material is ideal for long-term performance, even in extreme weather
Warranty Information
HellermannTyton products are simply the best products for solar use. They are warranted to be free from defects in material and workmanship. Their website has more information.
---
We Also Recommend