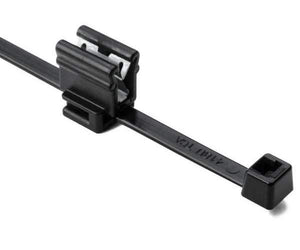 Solar Edge Clip(1-3mm) and 8" UV Cable Tie
(HT 156-02228)
Product Description
HellermannTyton Solar E-Clip cable tie and edge clip assembly is ideal for use where holes are not acceptable or where adhesives will fail due to temperature problems. Edge clips are widely used for fixing and bundling cables and wires within automotive, trucking, heavy equipment, solar panel, wind power, and white goods equipment manufacturing.
Spec: Cable Tie and Edge Clip, 50lb, 8" Long, EC5, Panel Thickness .04"-.12", Black, 100/bag
Size: Fits 1-3mm thick rail and module frame material. Attached UV Cable tie is 8"
HellermannTyton Part No. 156-02228
Type: T50REC5B
Color: Black
Material: Polyamide 6.6 high impact modified, heat stabilized, UV resistant (PA66HIRHS) with metal internal clip
Minimum Order Quantity(MOQ): 100
Flammability Rating: UL94 HB
Uses: The UV stabilized tie and edge clip assemblies are ideal for use where holes are not available or where adhesives are not strong enough.
Features:
Edge Clip applies easily to plastic and metal sheets without the need for a mounting hole.
Edge Clip provides low insertion force and high extraction force ideal for assembly environments.
Two piece assembly allows the mount to slide along the strap ensuring proper orientation.
Cable tie is outside serrated to reduce bundle chafing.
Non-releasable tie.
Warranty Information
HellermannTyton products are simply the best products for solar use. They are warranted to be free from defects in material and workmanship. Their website has more information.
---
We Also Recommend