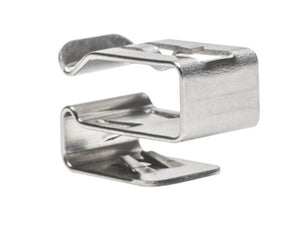 Solar Metal Edge Clip(1.5-2mm)
(HT 151-01699)
Product Description
HellermannTyton Solar E-Clip Low Profile Metal Edge Clip provides an excellent alternative to managing wire and PV cables where plastic fasteners are not the preferred method. Designed for effortless insertion, this Edge Clip has a high extraction force that tolerates extreme environments and provides assurance that the cables are secure on a panel. This Metal Edge Clip is simple to install and can easily be removed with a flathead screwdriver.
Spec: Low Profile Metal Edge Clip, 1.5-2mm panel thickness, 4.1-7mm cable range, SS304, 100/bag.
Size: Fits 1.5-2mm thick rail and module frame material.
HellermannTyton Part No. 151-01699
Type: MSC2LP
Material: Stainless Steel (SS304)
Cable Ø min: 4.1mm
Cable Ø max: 7mm
Flammability Rating: UL94 HB
Minimum Order Quantity(MOQ): 100
Uses: The edge clip are ideal for use where holes are not available or where adhesives are not strong enough.
Features:
Integrated design allows for easy insertion by hand.
1.5-2mm panel thickness range allows for multiple applications.
Double-compression design that accommodates various sizes of wire and cable
Presents a high extraction force for withstanding extreme conditions
Warranty Information
HellermannTyton products are simply the best products for solar use. They are warranted to be free from defects in material and workmanship. Their website has more information.
---
We Also Recommend