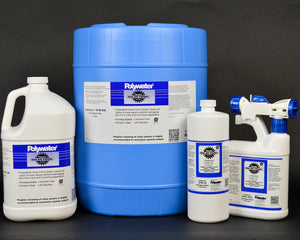 Solar Panel Wash
Dust, bird droppings, pollution, pollen, tree sap, plant matter residue, etc., all reduce the overall effectiveness of solar panel generation capacity. Panels must be cleaned regularly, typically once a year depending on soiling factors, to maximize system performance and longevity.
Polywater® Solar Panel Wash is specially formulated for spot-free cleaning of all types of solar panels without oxidizing or abrading aluminum rails and mounts. Many common car-wash soaps and window cleaners contain alkalines that promote oxidation and require a deionized water rinse.
Flyer:  Polywater® Solar Panel Wash
Key Features:
Effective cleaner
Biodegradable
Does not contain solvents
No VOC's
Non-flammable
Phosphate-free
Chlorine-free
pH neutral – non-caustic – non-alkaline
Will not affect aluminum rails or racking like common detergents
Rinses clean – no hard water spotting – deionized water not required.

Usage: INSTRUCTION FOR USE DOCUMENT

For pressure washers(only low pressure), hose sprayers, etc., dilute 1:25.
For persistent soils, use a higher concentration of Solar Panel Wash and a soft cloth or brush such as an RV brush or flow-through brush, to remove any remaining residues. Rinse the panels with 1:25 SPW™ solution and allow to dry.
SPW™ leaves a clean surface that will dry faster, reduce spotting, and repel soil, making it easier to clean your panels the next time. As an option, rinse surface with water. Observe the condition of the panels and repeat the process above if necessary.
Notes:
1-Gallon Jugs are sold by case (4 Jugs per case).
5-Gallon Buckets sold individually.
Modest additional shipping charges, because of weight, separate from $100 free shipping. There is no Express shipping of heavy items.