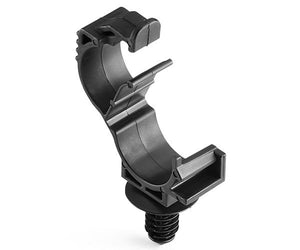 LOC Clamp Clip Fir Tree 10-14mm Bundle
(HT 151-01166)
Product Description
HellermannTyton Solar LOC Locking Clamp provides an excellent alternative to managing wire and PV cables. The LOC with Round Fir Tree features HellermannTyton's unique retention clamp attached to a 6.5 mm fir tree. The mount delivers a low insertion force while exhibiting high extraction resistance for a secure mounting point against a panel.
Spec: LOC Locking Clamp, 6.5mm Fir Tree, 10-14mm cable range, PA66HIRHSUV, 1000/carton.
Size: Fits 6.5mm thick rail and module frame material.
HellermannTyton Part No. 151-01166
Type: LOC1014FT6LG
Material: PA66HIRHSUV, Black
Cable Ø min 10mm
Cable Ø max 14mm
Flammability Rating: UL94 HB
Minimum Order Quantity(MOQ): 2000
Uses: The LOC Locking Clamps are ideal for use where holes are available to hold multiple wires.
Features:
The 360 degree locking enclosure dynamically fits a range of bundle sizes
Clamp can be opened for bundle maintenance
Low-profile release tab won't interfere with bundle or nearby routing
Fir tree demonstrates easy insertion with high extraction resistance
Warranty Information
HellermannTyton products are simply the best products for solar use. They are warranted to be free from defects in material and workmanship. Their website has more information.
---
We Also Recommend