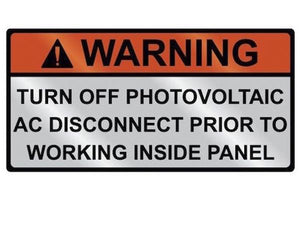 AC Warning Metal Label
(HT 596-00832)
Product Description
For use in state and local electrical codes that have adopted the NFPA70 2014 and 2017 National Electric Code®.
Code Article: 
Page: (2014)70-  ,(2017)70-
Size: 3.75" x 2"
HellermannTyton Part No. 596-00832
"WARNING
TURN OFF PHOTOVOLTAIC
AC DISCONNECT PRIOR TO
WORKING INSIDE PANEL."
Uses:
This label is to be used on or adjacent to equipment that can opened and may have .
Placards are constructed of an anodized aluminum face with high-performance, permanent pressure-sensitive adhesive.
They have been tested and rated to last up to 25 years in outdoor use, even in direct sunlight and harsh conditions
Meet or exceed standards and guidelines set for by the National Electrical Code (NEC), International Fire Code (IFC), Occupational Safety and Health Administration (OSHA) and the American National Standards Institute (ANSI)
Made using anodized aluminum and a proven process developed for military and naval applications
Adheres to powder-coated surfaces and can be mounted using rivets
Note:
Authority Having Jurisdiction (AHJ), commonly the electrical inspector, has final approval of wording and can require different wording to fit unique local requirements or unusual installations. We will accept returns of stock labeling that will not work with local codes for credit or refund. We can provide custom labeling in any quantity to meet unique local codes and unique installations. 

Warranty Information
HellermannTyton labels made of sturdy outdoor UV stable anodized aluminum and will remain highly visible for years.
---
We Also Recommend