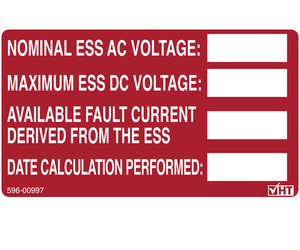 706.15 PV Energy Storage System Vinyl Label
(HT 596-00997)
Product Description
For use in state and local electrical codes that have adopted the NFPA70 2020 National Electric Code®.
Code Article: 706.15(C)
Page: (2020) 70-
Size: 3.75" x 2.12"
HellermannTyton Part No. 596-00997
Certification: UL969
NOMINAL ESS ACVOLTAGE: XXX VDC
MAX ESS DC VOLTAGE: XXX VAC
AVAILABLE FAULT CURRENT
DERIVED FROM THE ESS: XX ADC
DATE CALCULATION PERFORMED: XX/XX/XXXX
Uses:
Use on systems incorporating energy storage, such as batteries.
We can print data on blank fields for a professional and durable look or use our Paint Pen Marker if you intend to write in blank fields.
Simply enter the information for the PV System Interconnection label in the label tool provided. Typically, whole numbers or one decimal point are sufficient.
If you have any questions or are unsure of the correct information to enter, we are happy to help. Please call or email your question.
Printed text on outdoor UV stable Vinyl with UL969 outdoor adhesive.
Note: Authority Having Jurisdiction (AHJ), commonly the electrical inspector, has final approval of wording and can require different wording to fit unique local requirements or unusual installations. We will accept returns of stock labeling that will not work with local codes for credit or refund. We can provide custom labeling in any quantity to meet unique local codes and unique installations.

Warranty Information
HellermannTyton labels made of sturdy outdoor UV stable vinyl and will remain highly visible for years. Meets UL969 requirements for durability.
---
We Also Recommend